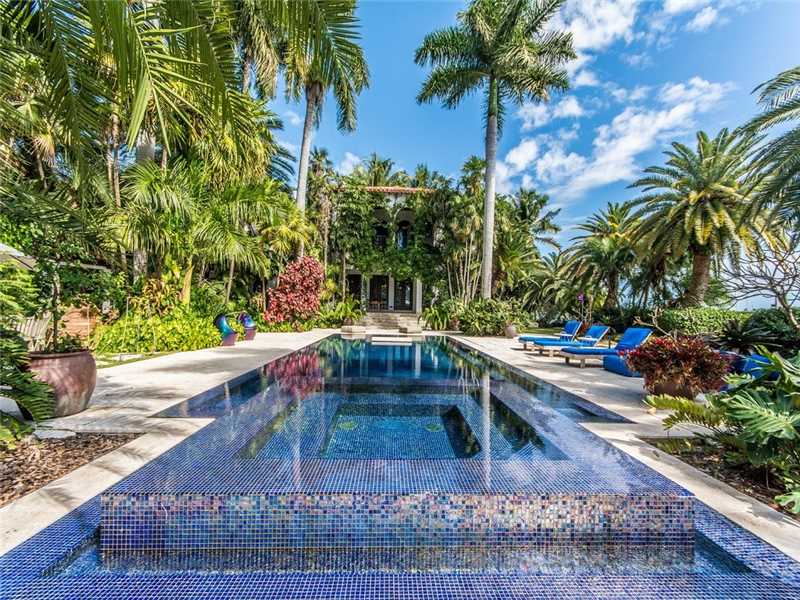 All News
May 8, 2017
The coolest local Miami Beach houses for sale
Some of the coolest local houses for sale are in the Miami Beach neighborhood. These three homes are amazing examples of luxury with their own unique twist. There is a modern resort with a gorgeous backyard, a sophisticated villa that merges modern and old-world, and a tropical resort with lush foliage and a great waterway view. Of all the Miami Beach houses currently on the market, these are some of the coolest and most unique finds. 
Modern resort
This Miami Beach house has an amazing backyard that transports the property from a waterfront home to a modern resort. The brilliant blue pool, complete with a water feature is cool and inviting, along with the large wood deck for basking in the sun or enjoying a sunset.

The yard has privacy hedges but allows a peek at the waterway running parallel and the cityscape beyond.
The home has a very modern aesthetic from the outdoor structure to the large glass windows in the rear facing rooms. The indoor layout is very open and inviting, with great flow for entertaining or spending time with the family.


This Miami Beach house is one of the coolest local options currently for sale.
Sophisticated villa
Situated behind an ornate gate and cobblestone driveway is this amazing Miami Beach house villa. The home was designed with a modern Mediterranean inspiration which can be seen from the curb all the way through to the yard.


 There is an abundance of greenery throughout the property to provide privacy and separation for the various areas outdoors. There is an NBA quality basketball court, private dock large enough to accommodate a yacht, and amazing stonework surrounding the pool and patio.


Inside the rooms have high ceilings and a great balance of modern luxury and old-world design.
This Miami Beach house is a very cool property and is a great example of local sophistication and luxury.

Tropical retreat
Another cool Miami Beach house is this estate on Palm Island with a backyard that feels like a tropical retreat.

The space has lush foliage creating privacy walls that create a unique space for enjoying the sun and the view. The pool is narrow, which gives more space for relaxing and entertaining. The channel and beyond are the perfect backdrop for the tropical oasis.


 Inside, the high ceilings and unique details complete the tropical retreat vibes, and feel like an island bungalow in the main living area, kitchen, and dining room.  For a Miami Beach house that feels unique and cool, this is the perfect opportunity.