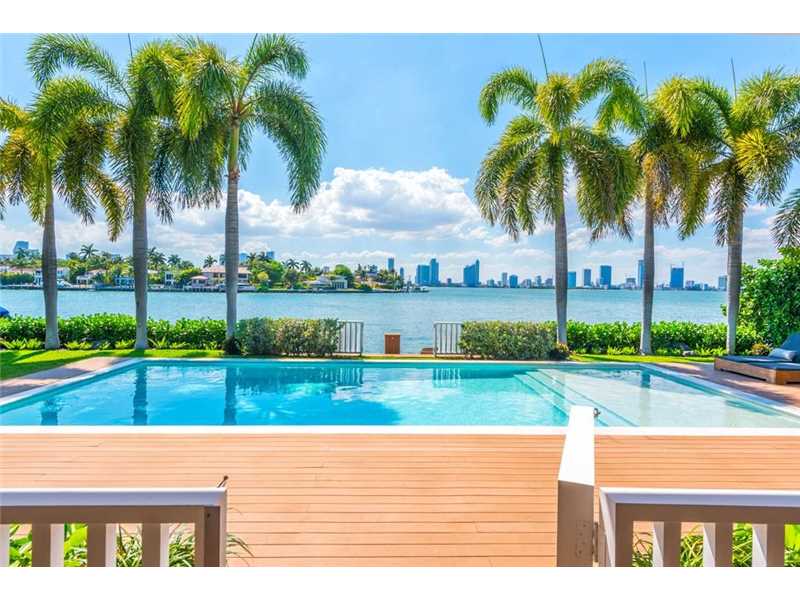 All News
February 13, 2017
These Miami Beach Waterfront Homes Have The Bay As Their Backyard
Everyone knows Miami is about more than just great weather, low taxes and great nightlife. Those who live here or want to move here or invest here know the real beauty of this land isn't the land at all — it's the miles and miles of pristine waterfront. Nothing beats living on Biscayne Bay, where sailboats and yachts cruise up and down all year long, and dolphins and manatees are regular guests. These Miami Beach waterfront homes have just what the doctor ordered.
700 W. Dilido Drive
For a
Miami Beach waterfront home
designed with tropical inspiration, check out 700 W. Dilido Drive. There is 80 feet of waterfrontage in out the backyard, along with a large pool and barbeque area. The entertainment patio provides a wonderful place for hosting guests and bridges the interior and exterior spaces. The sunset views in the west are gorgeous and a great way to enjoy the end of the day. The home itself is six beds, five baths, and 5,000 square feet. There are unique design elements throughout, creating a tropical oasis esthetic. Other highlights include the gourmet kitchen, wood floors in the living areas, and open floor plan bridging the family space and dining space. The bedrooms and bathrooms are modern and minimal, providing a great canvas for your own design preferences. This Miami Beach waterfront home is a great modern tropical getaway with the ocean as an extension of the backyard.
5050 N. Bay Road
Another impressive
Miami Beach waterfront home
is located at 5050 N. Bay Road. In addition to the ocean in the backyard this home has a private dock, large backyard pool, and a patio space. Outdoor features also include a guest suite, cabana, and a summer kitchen. The property has magnificently manicured grounds and stands out among the other homes in the area. Landscaping highlights are the waterfall and gardens in addition to the long driveway. The living space is 8,619 square feet with 10 bedrooms and 11 baths. The home is big enough to fulfill both casual and formal living, with a formal living room and dining room along with a casual space for relaxing. The guest suite has four bedrooms and baths, making this home ideal for those looking for something large enough to cater to a large family or consistent visiting guests. The ocean in the backyard is just icing on the cake with this Miami Beach waterfront home.
314 W. San Marino Drive
One
Miami Beach waterfront home
with a spectacular ocean backyard is the home at 314 W. San Marino Drive. The backyard features both a negative edge pool and a reflecting pool, along with a hot tub. There is an oceanside dock visible from the backyard. This property is great for hosting guests or throwing a party because of the outdoor seating and terrace along with the outdoor kitchen and bar. Poolside there's also a cabana with a bath, perfect for pool parties. The wide bay view rounds out the outdoor space and is an amazing place to enjoy the sunset. Inside, there are eight bedrooms and seven baths, a perfect setup for hosting guests beyond a backyard party. There is a luxurious master suite with his and her dressing rooms. The living room and dining room are large and accommodating, with a neighboring chef's kitchen. This Miami Beach waterfront home is an amazing find with Biscayne Bay in the backyard.
If you are interested in visiting any of these gorgeous Miami Beach waterfront homes featuring Biscayne Bay in their backyard, contact us at pobiakproperties.com, and we will be glad to show you these properties and an array of others that may suit your lifestyle and needs.