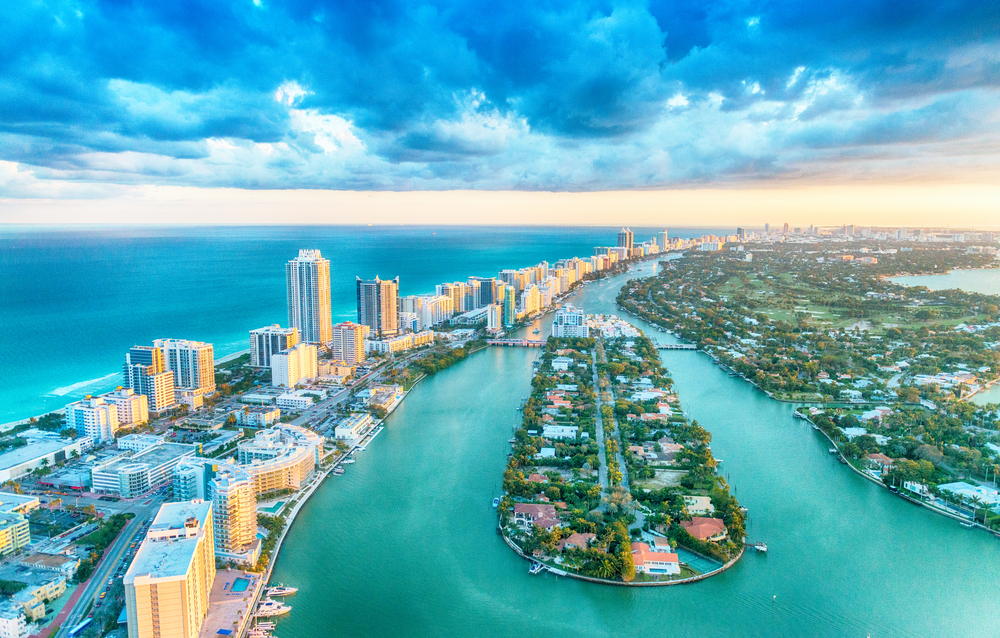 All News
April 5, 2017
Best Miami Beach Waterfront Homes for Sale
Every year, people decide to move to Miami Beach because of the classic Miami Beach lifestyle surrounded by water, sun, and fun. With beautiful weather and breathtaking views, it's no wonder why people choose Miami Beach as their home or home away from home. Fortunately for buyers, Miami Beach has many elegant waterfront condos and homes. Take a look at the best Miami Beach waterfront homes for sale, and get ready to make Miami Beach your next home or destination.
6466 North Bay Road, Miami, Beach, FL 33141
This fascinating contemporary masterpiece located at
6466 North Bay Road, Miami Beach, FL 33141
is a fantastic home for avid boaters, as it offers 100 feet of waterfrontage. This Miami Beach waterfront home on
North Bay Road
offers buyers gorgeous bay front views. This brand new home, built in 2016, offers opulent European-style luxury, with exquisite design and advanced technology. The spacious home spans approximately 12,000 square feet of interior living space with 7 bedrooms, and 7 baths, which include a flow-through grand master suite. This stunning Miami Beach single-family home features state-of-the-art amenities that include an elevator, a chef's kitchen, and more. The backyard is an entertainers dream with enchanting alfresco spaces that include 2,000 square feet of covered outdoor living space, a 1,600 square feet rooftop terrace, an exotic garden, and an elegant pool with water features. Listed at $25,500,000 this marvelous waterfront home is perfect for buyers with large yachts or anyone who loves to entertain.
4609 Pine Tree Drive, Miami Beach, FL 33140
This luxurious modern estate located at
4609 Pine Tree Drive, Miami Beach, FL 33140
was designed with 100% elegance, including the furnishings by Holly Hunt and Christian Liagre. The home offers buyers carefully selected all treatments, millwork, and exquisite textiles by Holly Hunt. This 9 bedroom, 10.5 baths limestone estate is the latest edition to Pine Tree Drive, and was built in 2016. The residence embodies a refreshing emphasis on the value of meditation with Curmaru wood overhangs, as well as mahogany windows and doors. This 12,750 square foot single-family Miami Beach waterfront home showcases a courtyard, a garden with a Savant sound systems, and a 2-level gazebo with a full kitchen, bathroom, an outdoor shower, and a fireplace. Listed at $29,500,000 this gorgeous waterfront home offers even the most discerning buyer's one of the best homes in Miami Beach currently on the market.
4395 Pine Tree Drive, Miami Beach, FL 33140
This luxurious contemporary gem located at
4395 Pine Tree Drive, Miami Beach, FL 33140
will leave you speechless. This custom built estate is a true fully automated smart home. Built in 2016, this 11,985 square foot
Pine Tree Drive
Miami Beach waterfront estate offers high-end waterfront living at its finest. This 8 bedroom, 8 baths, home was built to blend the indoors and outdoors into perfect harmony to create an amenity rich residence that boasts 3 separate structures with a VIP guest suite, a health spa, and a state-of-the-art fitness center. This fascinating home showcases a 1,600 square foot pool surrounded by lush flora and fauna, a 60 foot rectangular terrace covered by a magnificent stone overhang, and an impressive gated stately entrance. Listed at $22,950,000 this impressive waterfront home is ideal for buyers seeking modern luxury within the comfort of their own home.
Best Miami Beach Waterfront Homes
If you are interested in purchasing any of these Miami Beach waterfront homes showcased here, contact us at pobiakproperties.com, and we will be more than happy to show you these homes. If you would like to see additional Miami Beach waterfront properties, we have many stunning Miami Beach waterfront homes and Miami Beach waterfront condos to show you. We won't stop searching, until we find you the perfect Miami Beach waterfront property to meet your needs.