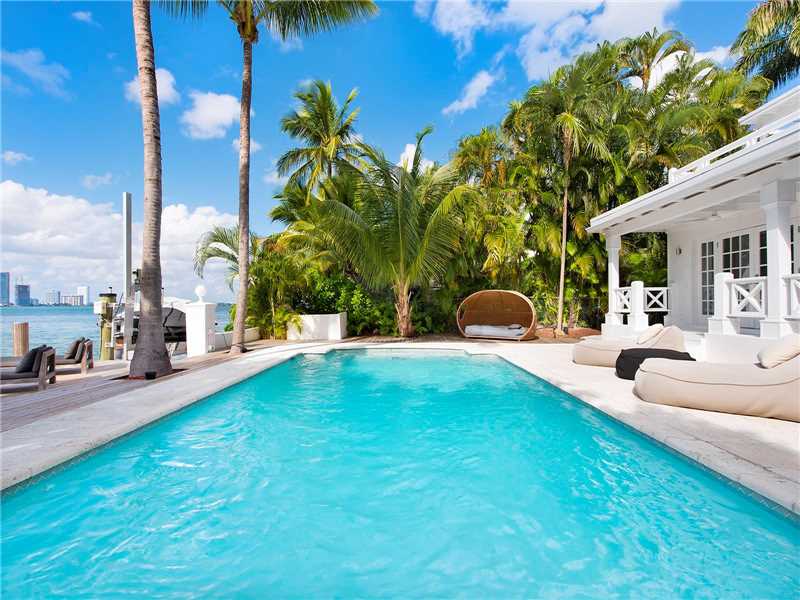 All News
March 24, 2017
4 Homes For Sale In Miami Beach, Florida With Irresistible Swimming Pools
There's no shortage of waterfront homes for sale in Miami Beach, FL with irresistible swimming pools. But we've identified some of our favorites. These pools transform the backyard of the property into something you'd find in a resort or on vacation. Each of these Miami Beach homes have swimming pools suitable for relaxing, getting into shape, and even hosting parties to show off your purchase. All of these pools also have an amazing view and waterfrontage, which gives you even more to enjoy all from the comfort of your new backyard.
224 W. San Marino Drive
The swimming pool at this home for sale in Miami Beach, FL is western facing, meaning that at the end of each day there's an amazing sunset to enjoy poolside. The pool is a little small for those that enjoy lap swimming but it's a great family sized space and has concrete decking perfect for withstanding splashing. There's also some space for lounging in the sun or watching as others swim. Lush landscaping and a privacy wall give the space some seclusion. The home has a covered patio and large doors open out, creating a flow from the inside out. The waterfront view is a great bonus and really completes the space.
1337 N. Venetian Way
Another resort style swimming pool is at this home for sale in Miami Beach, FL. The swimming pool is a bit larger than the last, making it a little better for lap swimmers, and even has a built in spa for late night soaks. There are two covered patios outdoors, which are great for shaded relaxing or entertaining. The concrete deck space is large enough for an outdoor dining table in addition to lounge chairs, and the mature landscaping provides adequate privacy. The entire backyard and rear of the house overlooks 70 square feet of waterfrontage, showcasing a gorgeous landscape with unobstructed views.
4750 N. Bay Road
For a larger swimming pool and some backyard, look no further than this home for sale in Miami Beach, FL. There is a large pool with tile accents and unique design structure. The pool is big enough for swimming and hosting parties. The remainder of the backyard features a lawn in addition to seating for entertaining or lounging making this swimming pool space perfect for parties. The landscaping includes privacy hedges and large palms throughout which add privacy between the houses. The backyard has great bay and downtown views, adding even more luxury to this amazing Miami Beach property.
1001 N. Shore Drive
Lastly, this home for sale in Miami Beach, FL has an even larger swimming pool with a very modern design. The pool is very simple and elegant, perfect for the occasional swim or pool party. There is a small lawn adjacent and privacy hedges on either side. In addition to the pool there's an amazing waterfront view complete with a private dock, making this home suitable for those that enjoy water sports on the ocean and a private swimming pool in the yard.